Global banks Wells Fargo and HSBC have announced they've begun using blockchain technology to settle bilateral foreign exchange (FX) trades. The technology will be used to settle transactions in USD, CAD, EUR and GBP with plans to extend the initiative to other major currencies soon. The platform will start out processing approximately 100 transactions a week and increase volume from there, according to a Ledger Insights article.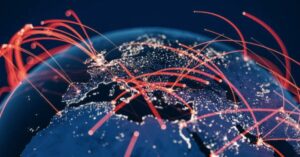 The use of distributed ledger technology (DLT) to settle FX transactions enhances settlement speed, efficiency and transparency. The new offering will build on HSBC's existing FX Everywhere platform, which the bank launched in 2018 and has settled over $2.5 trillion in transactions since. While the platform was initially intended for use between banks within the HSBC Group, it is now being extended for use in this new initiative.
The offering enables real-time transparency and payment versus payment (PvP) net settlement to cut costs while limiting settlement risks. The banks can choose how many times a day to make net settlements between them.
The platform operates on Baton Systems' blockchain inspired proprietary CORE distributed ledger technology and is governed by the Baton rulebook.
With this arrangement, Wells Fargo and HSBC hope to expand the system to add more participants and to introduce a central Financial Market Infrastructure (FMI) provider to administer the platform rulebook.
Mark Jones, co-head of Macro, Wells Fargo Corporate & Investment Bank said: "We are extremely excited to be collaborating with HSBC on a project which places both organizations at the forefront of blockchain innovation. We believe this will be the first step of many utilizing transformative technology across our industry in the years ahead."
Wells Fargo and HSBC aren't the only companies integrating blockchain technology into their processes, with banks such as Banque de France exploring using the technology for loan transactions.
At DeFi Consulting Group, we specialize in consulting family offices and other financial institutions on navigating the blockchain and Decentralized Finance space. Reach out to our team for guidance on how to effectively approach this field.
Click here to view the original articles:
Follow us and stay updated with the latest news through our LinkedIn Page too: DeFi Consulting Group