After officially allowing the trading of crypto assets in the Dubai World Trade Centre free zone in September, the Middle East is now taking more serious steps toward supporting the virtual asset ecosystem and the tech space at large. Authorities in the United Arab Emirates are planning to establish a designated zone in the Dubai World Trade Centre (DWTC) from which businesses and institutions dealing with digital assets will be able to offer their products and services.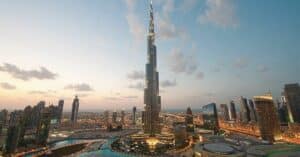 The aim is for the DWTC to become a "comprehensive ecosystem for cryptocurrencies and providers of related services", according to a Bitcoin.com article. The DWTC will also act as regulator of the space, "enforcing rigorous standards for investor protection, anti-money laundering (AML), combating the financing of terrorism (CFT) compliance and cross border deal flow tracing." The authorities plan to work with private sector companies, such as crypto exchange Binance, to establish and govern the crypto ecosystem.
By creating a regulatory framework for innovative financial products, officials hope to facilitate the adoption of new technology, such as blockchain and cryptocurrencies.
This development complements Dubai's larger plan of attracting tech companies and talent, with the aim of strengthening its position as the Middle East's financial powerhouse. As part of the plan, Dubai launched a new $272 million fund in November designed to support the emirate's digital economy and projects using the latest technology and to develop the economic sectors of the future.
Dimitri Vardakas, co-founder and managing partner at DeFi Consulting Group comments: "Besides enabling what seems to be a favorable regulation framework for crypto companies, Dubai provides a welcoming platform in terms of work visas delivery which is also a key factor to attract fast growing organizations".
DeFi Consulting Group's sister company NAOS International – an executive search firm – has extensive experience in the Middle Eastern region, having been active in Dubai for over 12 years.
However, Dubai isn't the only region making moves toward cryptocurrency adoption; Bahrain's central bank has given Binance a regulatory nod of approval just this week. The in-principle approval means Binance can operate as a crypto asset service provider in the kingdom. This would mark the first regulatory approval for a Binance entity within the Middle East.
Overall, the Middle East is quickly becoming one of the most crypto-friendly regions globally. At DeFi Consulting Group, we specialize in consulting family offices and other financial institutions on navigating the Crypto Assets and Decentralized Finance space. Reach out to our team for guidance on how to effectively approach this field.
Follow us and stay updated with the latest news through our LinkedIn Page too: DeFi Consulting Group