Hong Kong has played a significant role in the development of the crypto industry, having birthed some of the world's leading crypto companies, such as Crypto.com and FTX exchange.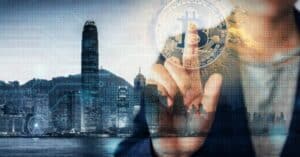 Yet, parallel to the trillions of dollars being traded through Hong Kong's exchanges, the city has also experienced a huge rise of physical over-the-counter (OTC) crypto shops.
Henri Arslanian, PwC crypto lead and former chairman of the Fintech Association of Hong Kong, told Cointelegraph that these are "literally brick and mortar stores for the retail public".
The strong presence of physical OTC crypto shops marks a big part of the crypto culture in Hong Kong, providing an alternative way for the general public to access crypto other than through regulated exchanges.
One example of a crypto exchange establishing physical storefronts is Hong Kong Digital Asset Exchange, which opened a physical shop in January this year and employs over 30 customer service representatives.
According to a Cointelegraph article, Kelvin Yeung, CEO and founder of Hong Kong Digital Asset Exchange, explained that "As more investors and institutional investors get into the industry and digital currency becomes mainstream, there will be a tendency to open physical stores in combination with online platforms."
However, with Hong Kong's current regulatory uncertainty around crypto, the future of these OTC crypto exchanges may be at stake. The Financial Services and the Treasury Bureau of Hong Kong have been considering restricting crypto access to portfolios with at least $1 million in assets. This could greatly restrict the retail business some of these physical OTC shops are focused on.
Considering the ongoing regulatory uncertainty in Hong Kong, Arslanian commented that Hong Kong may end up being better suited for institutional investors, while Singapore could be a better location for retail clients.
At DeFi Consulting Group, we specialize in helping family offices and other institutional investors understand and gain access to Cryptocurrencies and Decentralized Finance. Reach out to our team for guidance on how to effectively approach this space.
Click here to view the original news article.
Follow us and stay updated with the latest news through our LinkedIn Page too: DeFi Consulting Group