Yesterday's post discussed Bitcoin's large energy consumption, and while it is important to be aware of the digital currency's environmental implications, it is equally important to look at the flipside of the coin – the efforts undertaken by the bitcoin mining industry to reduce energy consumption, as well as the multitude of other cryptocurrencies that are greener by design.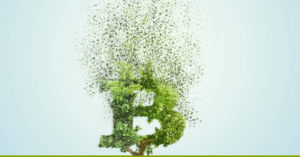 As concerns over Bitcoin's carbon footprint grow, miners are increasingly turning to renewable energy sources to power their operations. One such source includes nuclear power, with several recent announcements of partnerships between nuclear power companies and bitcoin miners emerging.
Another example of the industry's shift to green energy is evident in the US, more specifically West Texas: with 16 gigawatts of new wind and solar projects set for construction in the region over the next year, Bitcoin mining operations have agreed to buy up any excess renewable energy when it's not needed and to shut down their operations when demand surges, thus freeing energy back onto the grid and acting as a kind of "shock absorber", as per a Forbes news article.
It is also important to keep in mind that there are many other currencies and blockchains comprising the cryptocurrency – and DeFi ecosystem, many of which are designed for more efficient energy use than Bitcoin. Cardano, Polkadot and XRP, for example, use vastly less energy than Bitcoin, while Ethereum is being modified to Ethereum v2 to drastically cut its energy consumption by moving from a proof-of-work to a proof-of-stake concept – a move that is forecast to cut energy use by 99.95%.
Ultimately, while the concerns around Bitcoin's energy consumption are legitimate, both the Bitcoin mining industry and the larger cryptocurrency space are rapidly adjusting to make the entire ecosystem a more sustainable one.
At DeFi Consulting Group, we specialize in helping institutions understand and gain access to Cryptocurrencies and Decentralized Finance. Reach out to our team for guidance on how to effectively approach this space.
Click here to view the original articles:
Follow us and stay updated with the latest news through our LinkedIn Page too: DeFi Consulting Group