JPMorgan shared a note with its clients last Thursday, reporting that Bitcoin is looking more and more promising as a hedge against inflation, specifically in comparison with gold, according to a Fortune article.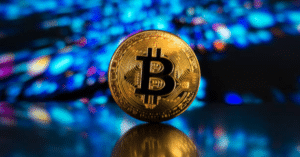 Despite its highly volatile nature, larger numbers of institutional investors seem to be flocking to Bitcoin amidst rising concerns about inflation. As stated in the note, "Institutional investors appear to be returning to Bitcoin, perhaps seeing it as a better inflation hedge than gold."
While this seems to be the narrative, when talking about Bitcoin and inflation, it is important to keep the asset's volatility in mind, as well as the investment timeframe.
The note confirms a trend of increasing institutional adoption of Bitcoin and the larger cryptocurrency space; a Coinbase report released in April stated that almost two thirds of the $335 Billion in trades the exchange hosted that quarter came from institutional investors.
Recently, cryptocurrencies have also gotten the greenlight by some well-known investors – Dawn Fitzpatrick, head of George Soros's hedge fund, Soros Fund Management, for example, recently disclosed that the fund owns some crypto. Similarly, well-known businessman and Shark Tank star Kevin O'Leary announced last week that his crypto holdings outweigh the allocation of gold in his portfolio.
While regulatory uncertainty still remains a barrier to adoption, a May report released by JPMorgan points to assurances by the U.S. government that they would not follow China in its ban of Cryptocurrencies – this was also confirmed by Federal Reserve Chair Jerome Powell and Gary Gensler, Chairman of the U.S. Securities and Exchange Commission.
At DeFi Consulting Group, we specialize in helping Family Offices and other Regulated Institutions understand and gain access to Cryptocurrencies and Decentralized Finance. Reach out to our team for guidance on how to effectively approach this space.
Click here to view the original article.
Follow us and stay updated with the latest news through our LinkedIn Page too: DeFi Consulting Group