Amidst China's crackdown on crypto, Singapore has emerged as a haven for the cryptocurrency industry.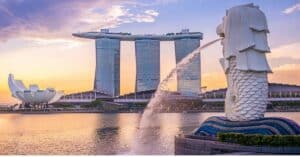 The city-state of 5.9 million people has always relied on being a global financial hub and it is now expanding that to include crypto finance operations.
Not only does the socially conservative country adopt an open and friendly approach to crypto, it also backs up its stance with legislation through the introduction of the Payment Services Act – a law that regulates companies handling digital payments and trading of tokens such as bitcoin. Crypto companies have been able to apply for operating licenses under this legislation since January 2020 and many have taken this opportunity to set up shop in a crypto-friendly regulatory environment.
According to an article in the Financial Times, Loo Siew Yee, assistant managing director of the Monetary Authority of Singapore's policy, payments and financial crime group, commented that "Technologies that underpin crypto products and digital tokens have the potential to power the new generation of financial services".
The Singaporean government has taken a pioneering role in shaping the development of the crypto industry, and its efforts are paying off as some of the world's largest exchanges, including Crypto.com, Gemini and Coinbase have applied for licenses to operate in the country.
Opening its doors to the booming crypto industry and establishing itself as a key location for companies operating in the space could bring the country one step closer towards its goal of being the dominant global financial hub.
At DeFi Consulting Group, based in Singapore, we specialize in consulting family offices and other regulated institutions on navigating the Cryptocurrency and Decentralized Finance space. Reach out to our team for guidance on how to effectively approach this field.
Click here to view the original article.
Follow us and stay updated with the latest news through our LinkedIn Page too: DeFi Consulting Group