According to a Coindesk article, Société Générale (SocGen) – the third largest bank in France – has taken a massive step towards the integration of Traditional Finance (TradFi) and Decentralized Finance (DeFi).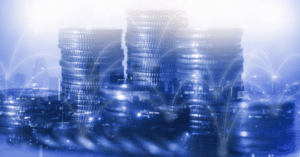 In an application submitted to MakerDao – an Ethereum-based Defi protocol that issues the stablecoin DAI – SocGen proposed for MakerDao to accept on-chain bond tokens issued by the bank as collateral for a stablecoin DAI loan.
Dimitri Vardakas, Director at DeFi Consulting Group, explains: "MakerDAO is a key pioneer project in the DeFi space. They are the issuer of DAI, a stablecoin, pegged to 1 USD. The stability of DAI is built on various cryptocurrencies used as collateral, which gives it a high level of decentralization."
The proposal was submitted by Société Générale subsidiary FORGE, which focuses on bridging the gap between capital markets and digital assets, and the loan would be for up to $20 million DAI, thus marking one of the biggest moves towards institutional adoption of DeFi.
Furthermore, the loan would be mediated by several legal entities and third parties within a complex legal framework, which could set a standard for regulatory oversight of DeFi projects across other institutions.
The tokens submitted by SocGen as collateral were issued in 2020 – they mature in 2025, have a fixed rate of 0% and an AAA rating from credit rating agencies Moody's and Fitch. These bond tokens and the DAI are both recognized under French law.
Société Générale is somewhat of a pioneer when it comes to adopting digital assets and DeFi, having issued bond-backed tokens on the Ethereum blockchain back in 2019. According to SocGen's proposal, the loan in this newest project would act as a "pilot use case", furthering the broader goal of helping to "shape and promote an experiment under the French legal framework."
At DeFi Consulting Group, we specialize in helping institutions understand and gain access to Digital Assets and Decentralized Finance. Reach out to our team for guidance on how to effectively approach this space.
Click here to view the original news article.
Follow us and stay updated with the latest news through our LinkedIn Page too: DeFi Consulting Group