According to a recent Chainalysis report, Central, Northern and Western Europe (CNWE) has turned into the world's biggest cryptocurrency economy. The region received more than $1 trillion in cryptocurrency transaction volume, which amounts to 25% of global activity.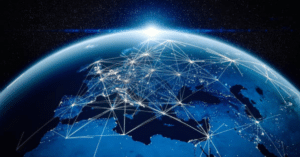 While CNWE's transaction volumes grew across virtually all cryptocurrencies, the report notes that growth was especially high on DeFi platforms.
So, what fuelled this growth in CNWE's cryptocurrency economy?
One main factor driving the growth is an increase in institutional investments – from July 2020 onwards, the space saw a huge increase in transactions worth $10 million and above in cryptocurrencies. From July 2020 to June 2021, institutional cryptocurrency transaction value grew from $1.4 billion to $46.3 billion, making up more than half of all CNWE activity.
Interestingly, the majority of these institutional-sized transactions went to DeFi platforms and were made mainly in Ethereum (ETH) and wrapped Ethereum (wETH) – a token to be used on other chains and commonly used in DeFi protocols. According to the data, DeFi protocols represent three to four of the top five services in most months, with dYdX, Uniswap and Instadapp appearing frequently, while Binance and Coinbase remain the most popular centralized exchanges.
Another interesting finding of the report is CNWE's unique status as an international cryptocurrency hub; CNWE is the biggest cryptocurrency trading partner for every other region studied, sending at least 25% of all value received by other regions. North America emerged as CNWE's biggest trading partner, followed by Eastern Asia, Central and Southern Asia, and Eastern Europe. Being the largest counterparty to every other region, it becomes clear that CNWE is a key source of liquidity to cryptocurrency investors around the world.
The Key Takeaway from the report is that "CNWE has become the world's biggest cryptocurrency market, and its growth over the last year was largely driven by institutional investors and other whales moving into DeFi".
At DeFi Consulting Group, we specialize in helping institutions understand and gain access to Cryptocurrencies and Decentralized Finance. Reach out to our team for guidance on how to effectively approach this space.
Click here to view the original report.
Follow us and stay updated with the latest news through our LinkedIn Page too: DeFi Consulting Group