Thailand has plans to become a "crypto-positive society", aiming to boost tourism and attract wealthy crypto holders, according to a Bitcoin.com article.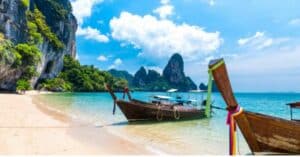 The Tourism Authority of Thailand (TAT) is working hand-in-hand with the country's regulatory bodies to enable easier and more convenient spending of cryptocurrencies.
TAT governor Yuthasak Supasorn explains that "There are people who have become wealthy from holding digital currencies and they may want to use the wealth they have accrued". He goes further to say that "If they can use their currencies here without having to exchange it, or be faced with government taxes, then it would create convenience for them."
The TAT is reportedly laying the groundwork for a wider crypto adoption across the country – the plan is already being discussed by several key players, including the Bank of Thailand (BOT), the Thai Securities and Exchange Commission (SEC), and Bitkub Online Co. – the country's largest crypto exchange.
The aim is to have wider acceptance of cryptocurrencies in place by the time global travel returns to normal, in order to recoup some of the $80 billion in lost tourism revenue due to the pandemic and the country's consequent shutdown.
While Thailand does not currently accept cryptocurrencies, such as Bitcoin and Ether, as legal tender, plans are in place for the authority to set up a new unit next year to handle the issuance of its own crypto tokens, produce a wallet, and build a new tourism ecosystem, according to Supasorn.
The TAT governor further notes that, "Crypto is the future, so we must make Thailand a crypto-positive society to welcome this group of quality tourists".
Thailand isn't the only country making moves to become a crypto-friendly destination; Switzerland, the UAE and Singapore are other notable examples of regions implementing crypto-supportive plans.
At DeFi Consulting Group, we specialize in helping institutional investors and governments understand and gain access to Crypto and Decentralized Finance. Reach out to our team for guidance on how to effectively approach this space.
Click here to view the original news article.
Follow us and stay updated with the latest news through our LinkedIn Page too: DeFi Consulting Group